Miriam Carver

Leading Policy Governance® Theorist and Consultant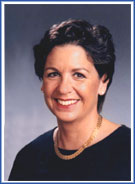 Miriam Carver is a Policy Governance author and consultant. She and her husband, Dr. John Carver, have co-authored Reinventing Your Board: A Step by Step Guide to Implementing Policy Governance (1997, 2nd edition 2006, Jossey-Bass) and A New Vision of Board Leadership: Governing the Community College (1994, Association of Community College Trustees) as well as several booklets in the Jossey-Bass CarverGuide Series on Effective Board Governance (1996-1997, Jossey-Bass). In addition, Miriam, along with co-author Bill Charney, has written The Board Member's Playbook: Using Policy Governance to Solve Problems, Make Decisions, and Build a Stronger Board (2004, Jossey-Bass). She is executive co-editor of the bimonthly publication Board Leadership: Policy Governance in Action (Jossey-Bass). Miriam's detailed bibliography is attached.
Miriam Carver was born in England, where she received most of her formal education. In her twenties, she moved to Canada where she completed her Masters level studies. There, she worked in nonprofit organizations of various kinds.
Miriam was the Executive Director of Canada's first AIDS hospice, and also of a federation of counseling agencies in Ontario. She opened her governance consulting practice in the early 1990s. Miriam has consulted with boards of directors in the USA, Canada, Great Britain, the Netherlands, Northern Ireland, Thailand, Mongolia, and Malaysia. Her clients include the boards of colleges, school systems, hospitals and hospital systems, mental health agencies, advocacy and charitable organizations, trade and professional associations, credit unions, utilities commissions and city councils. Miriam also trains consultants in the theory and application of Policy Governance in the Policy Governance Academy.
Miriam was born in Great Britain and now resides with her husband in Atlanta, Georgia.
---
See also: Bibliographies - Miriam Carver.